What do
John Wall, Demarcus Cousins
, Xavier Henry, Derrick Favors,
and the NCAA Tournament have in common?
Well, other than they're all awesome, exciting to watch, get all the ladies attention. WAIT - I think I should have rephrased, there's alot in common. Anyways,
they're all 1-and-Done
.
Wall, Cousins, Henry, and Favors are out after this season. All are projected in the top 10 of the NBA draft. In the NCAA Tourney, all it takes in one loss and your season is done.
33 of 65 teams have been sent home losers already.
After today and tomorrow, another 16 will join them. 16 teams will make it to next weekend and the only thing we know is who it won't be - and that it will happen.
The first two days were
exciting and electrifing
. Some upsets were expected (33% of ESPN brackets picked 12 Cornell over 5 Temple), some upsets caught you by surprise (13 Ohio 2.4% vs 3 Georgetown). The first two days saw
8 double digit seeds win
, and several others were nail biters.
Today's games to keep an eye:
The FCC Game of the Day -- (10)BYU vs (2)Kansas State:
Kentucky vs ETS would have been the FCC game Thursday, if anyone other than the Louisville/Lexington/East Tennessee market's were watching. But since no one else heard Daniel Orton profess his displeasure with DeAndre Liggins, no one cared. Watch for K-State coach Frank Martin to rip into someone, rather his team is winning or losing. Keep you finger on the
bleep button
FCC.
BCS Buster-- (13)Murray State vs (5)Butler:
We'll have a non-BCS team - well I guess this is Basketball so I should say 'mid-major'- in the Sweet 16 no matter what, after this matchup between the
OVC and Horizon League
. Butler is what Murray State strives to be. The game should be fun to watch, just because neither team is a big name and the Racers have the confidence to possibly pull the upset.
"Our guys don't think they're mid-major,"
Murray State coach Billy Kennedy said. "They all believe they're high-major.
They all think they should have gone to Kentucky or Louisville
. ... It's not bad that they have that confidence." Despite the confidence, I still look for Butler to pull of the W as I think its harder for a mid-major to 'sneak-up' on another.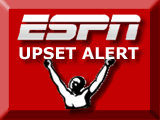 Upset Special--(10)St Mary's vs (2)Villanova:
The Wildcats had a tough time advancing to the second round while the Gaels blew through their first opponent.
Villanova went 2-5 to end their regular season
and are barely withstanding bad conduct on and off the court. While Scottie Reynolds and Corey Fisher won't be benched at the onset of todays game, their recent poor shooting and similarly poor attitudes could still put a damper on their chances. Look for this to be another nail bitter for the Wildcats, especially if St. Mary's can get their inside game going early.