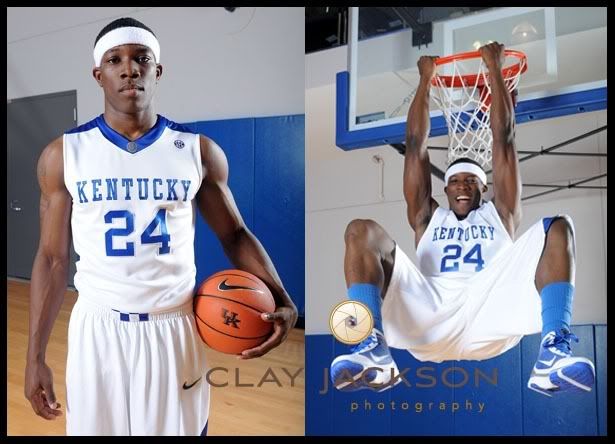 Here are some quick thoughts and musings about the first round of the tournament:
1. If Eric Bledsoe stays hot: watch out- The Cats hit 15 three pointers in the blowout over ETSU last night and 8 of those came from Eric Bledsoe. If he continues to hit from the outside, much like he did in the SEC tournament, then it is going to be very difficult to put out the Cats. The young man was impressive with a team high 29 points and he beat Tony Delk's UK record with 8 three's in a tournament game. They also broke another team record by hitting those 15 three's. The last time UK put up 100 on a team in the tournament was in '96 when they won it all. Just sayin'.
2. The Big East is over rated- The Big East was 1-3 in the tournament yesterday and really should have been 0-4 but Villanova somehow beat Robert Morris (?!) in overtime by 3. The rest of the Big East did not look like the Big Beast it is supposed to be. Georgetown, who was in the Big East Championship game and beat Syracuse in the first round of the Big East tournament went down to Ohio and it wasn't close the entire game. Marquette was beaten by Washington and Notre Dame was defeated by Old Dominion. West Virginia, Syracuse and Louisville all have a chance today to save some face for the conference.
3. The SEC doesn't stink that bad- Besides Kentucky the SEC has been suspect all year. Florida was handed a first round loss in double overtime at the hands of a very good BYU team that was ranked almost all season long and Vandy was defeated by Murray State. Does it still look like Kevin Stallings deserved that SEC coach of the year honor? I think not. UT beat San Diego State much to the surprise of Bracketologists everywhere. San Diego State was a trendy pick to overcome Tennessee. I'm not saying that the SEC is great by any stretch of the imagination but they were 2-2 on the day and the Big East was 1-3. Ha!
4. Yesterday was the most exciting day I have ever witnessed in the first round of a tournament- Overtimes. Double overtimes. Last second shots. Upsets galore! I have never had so much fun watching an NCAA tournament. Is my bracket screwed? Yes. But I don't care. You can't put a price tag on watching Murray State beat Vanderbilt with a last second shot and watching A.J. Ogilvy hang is big dumb frosted tips in dismay. A 4 seed went down, a 3 seed went down and a 2 seed SHOULD have gone down. I am so looking forward for later today!
5. CBS should really look at hiring some new announcers- Announcers really don't make or break a game's entertainment value but they can enhance it or bring it down. I really wish CBS would usher Vern Lundquist and Dick Enberg out the door and into the pasture. Lundquist mispronounces every player's name and he just got down right porno on us all when describing the "deep stroke" of the last second Murray State shot ad naseum. If I had children watching the game with me I would have made them go into another room. Dick Enberg just sounds like a fossil.
6. The Big 12 looks tough- The Big 12 handled their business yesterday with the lone sour note being a faded Texas team. Kansas and Kansas State both did what they were supposed to do and beat their low seeds convincingly. Baylor struggled with a Sam Houston State team that gave UK all they wanted earlier in the year but ended up prevailing by 9. Oklahoma State, Texas A&M and Missouri all have games today and we will see if the Big 12 can continue their winning ways.
7. I'm pulling for St. Mary's to win their region- St. Mary's beat the Richmond Spiders by 9 and will play Villanova on Saturday. I sincerely hope that Duke and St. Mary's meet up in the Elite Eight and the Blue Devil's get a spanking.
8. My bracket sucks- That's really about it on that one.
9. There is one commercial I am already sick of- If I have to see that Southwest Airlines commercial with those guys showing their painted chests and yelling "AAAAAAAAHHHHHH!" one more time I might hijack a plane. I have now been red flagged by the FBI and the CIA. I had to get that off of my chest and it was worth it.
10. The NCAA tournament is better than the Super Bowl- There is no other sporting event in the world (up yours World Cup) that has the drama, the action, the passion, and the intensity of the NCAA tournament. I am more of a football fan than a basketball fan but that does not effect the love I have for the tournament. The drama lasts for weeks instead of just one game. The Super Bowl can't touch the NCAA.