The
Postseason starts today for the Cats
as they take to the road, their destination, their
8

th

NCAA Championship
. Yeah... sorry CBS, at Kentucky, if our road leads to the Final Four, we made a wrong turn.
But as any family of 10 will tell you, with any long trip, you've gotta
make a few detours
to see the sites along the way. This weekend, the
Cats will stop over in Nashville
for a chance at their
26

th

SEC Tournament Championship
. Let's take a look at what Kentucky will be faced with this afternoon:
Venue:
Sommet

'

som

-MAY' Center
Gaylord Arena
Bridgestone

Arena
. The home of the
Chris Hanson's
NHL's
Nashville Predators.
Key thoughts:
The not-home of the
Vanderbilt
Commodores, the normal court of Nashville is another home-away from-home game for the Cats.
Best Player:
JaMychal

Green
-
Ja
-Rules the Tide by shooting 50% from the floor, second on the Tide in points (14.1) and leads in rebounds (7.0)
Key thoughts:
Matching up against Cousins or Patterson, expect the D on him to be the key of the game.
Player to Watch:
Mikhail Torrance
- Torrance averages 15.1 points, 5 assist, and 3 boards a game.
Key Thoughts:
Torrance could be considered for being the best player on the team, but it his first
matchup
with the Cats, the 6'5" guard
couldn't
keep up with the speed of the Kentucky back court. He will need to breakout for more than the 8 points he had during the first
matchup
if they want to advance in the SEC tourney.
Hope he gets to play:
Greg Cage,
I would have selected one of the other awkward bench warmers, but they are apparently so awful the Alabama team page decided to not print their picture.
Key Thoughts:
Cage is the little brother that could. One of Greg's brothers, Dan Cage, played basketball at Vanderbilt (2003-07) and is currently playing professionally in Germany.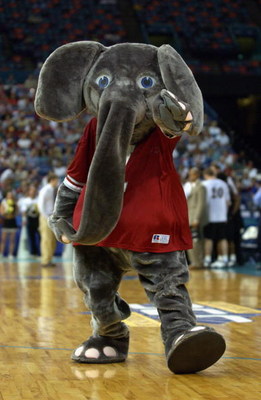 Mascot:
Big Al
"Big Al" was selected by student vote. The name was the name of a 'well-known about campus' member of the University of Alabama Rugby Football club, Alfred Lee "Big Al" Brown. Brown was known as the "DJ" for the club's after-match parties.
Key Thoughts: So, I wonder if Big Al ever sees Big Ben in that Alabama after party bar?

Stay tuned for the live blog today at 1:00pm...