One half of the possibly UK bound Harrison twins. But 2013 is a long ways away. Just sayin'.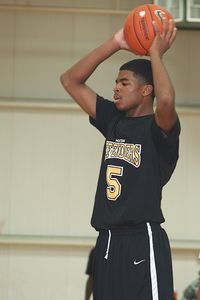 Obviously
it is too early in the recruiting process
to get too excited about this but it's nice to see. The players are
Andrew and Aaron Harrison from Texas
. They are both listed as 6-5, 205 pounds.
You can actually see these youngsters showcase their skills this weekend in Louisville at the John Lucas Midwest Invitational at Hoops
. Needless to say much of the Big Blue Nation will be there to check out their skills.