R.I.P George Blanda. The greatest football Wildcat of them all.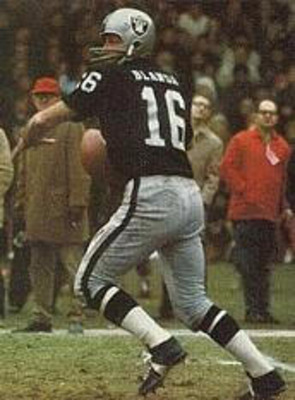 How many of you thought that
Michael Vick
would again be a legit starting QB in the NFL after his arrest and conviction on animal cruelty charges?
If you raised your hand you are a darn, stinking fibber.
Michael Vick has almost single handidly brought the
Eagles
from
"uh-oh"
with
Kevin Kolb's
debut to
"whooooaaaa!"
when he took over and led Philly to their current
2-1 record
. Vick was responsible for four touchdowns during
the 28-3 shellacking of the Jag's
yesterday. The two wins are against two awful teams, the Jags and the Lions. The one loss was to
Green Bay
, a team that looked dominant when Kolb was in and then almost gave up a huge lead thanks primarily to Vick's play.
There are those (
2hott
) that claim that the Packers weren't able to prepare for Vick and that is why he almost beat them. Really? The Packers didn't have to prepare for
Ryan Fitzpatrick
when he came in relief for
Trent Edwards
in week 2 and the Pack
still beat the Bills 34-7
. Give me another excuse. Vick is legit. Love him or hate him,
he is still the most exciting player in professional football.
Onward and Upward:
On a sad not University of Kentucky legend and NFL Hall of Famer George Blanda has died. He was 83 years old. Blanda played most of his career for the Raiders and did not retire until he was 49, still a record. He also used to hold the record for most points scored by a player until it was broken in 2000. He played for Bear Bryant while at UK.
John Wall is creating a frenzy in Washington. The Wizards are going to have the first ever NBA Midnight Madness tonight to kick off their training camp. Here is the article if you want to read more about it. Wall is the primary reason for the hoopla. Please do the John Wall Dance. Pretty please.
I keep thinking about the loss to Florida and I keep hearing the same thing from multiple people: UK will never beat Florida with the game plans they continue to use. The Cats play so conservative, on defense and on offense, when they play the Gators. Take some shots, get aggressive and quit calling the game like they are going to lose. It's getting a little old.
Now that I spoke my mind on that issue, let's talk about Ole Miss. Ole Miss is a HUGE game. It's an away SEC game and it could put the Cats at 4-1, which is where many predicted them to be at this point. More analysis on this later in the week.
Louisville wide receiver Doug Beaumont is out with knee surgery against Arkansas State. He is out indefinitely with no time table on his return. No, Cards fans, I am not going to make a rude joke about an injured player.
Speaking of the Dirty Birds, they will be back in action against the Arkansas State Red Wolves at their house. They are 1-3 with losses to Auburn (beat down), Louisiana Lagayette (not as bad), and Troy (close but no cigar). The Cards barely beat A-State last year at PPJCS 21-13. Who does a home/away series with Arkansas State? Oh yeah, Louisville does.
That's it for now, peeps. Keep checking back for more news and
outlandish proclamations made mainly by me.