Hopefully we won't be missing the swagger of this guy today.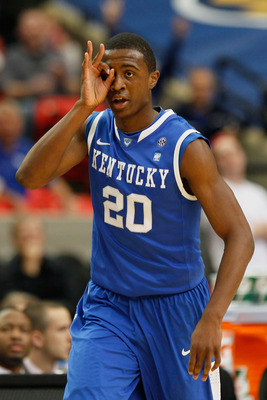 The nightmare scenario that Kentucky fans have been hoping to avoid all season finally occurred yesterday against Alabama. But before I get to that, let's review the game.


After a seemingly lackluster performance against Ole Miss, the Cats put together their most dominant performance of the season. Kentucky out rebounded, out hustled, and out scored the Crimson Tide. Once Kentucky had an early first half lead they never looked back. No letting the opponent sneak back into this one.


Scoring was spread even throughout our main six guys. This is becoming more of a trend instead of the earlier season norm which was to let Knight, Jones and Lamb do all of the scoring. Knight had 12 points; Harrellson had 14 points; Miller had 12 points; Lamb had 15 points; Liggins had 14 points; and Jones had 7. That's the type of team scoring you like to see. Five out of six guys scoring 10 or more.


Miller is now riding a streak of 8 straight games with double digits. He decided to play like the freak athlete that he is at the right time of the season.


And what about our man Jorts? Another double-double for UK's beloved hard hat wearing work horse. A UofL friend of mine, and Sportsthat blogger, called Harrellson "garbage". Well, the Garbage Man has been taking out the trash lately.


The injuries were scary. Both Doron Lamb and DeAndre Liggins suffered ankle injuries within a minute of each other late in the game. These things happen and it is amazing that it hasn't happened earlier in the season. On a team where only 6 guys give quality minutes, it's tough to take them off of the court. Even if you take out the majority of your starters, that only leaves 4 guys coming off of the bench. Calipari still has to leave one of his stars in.


Doron Lamb was quoted, "...things happen. You've got to bounce back, get a lot of treatment on your injuries and see what happens for tomorrow, but I know for sure we're both playing tomorrow." Liggins has echoed Lamb's statement and he said he is fine and will play. I love this team's will and desire. This again proves why DeAndre Liggins is my favorite player on this team.


I do not doubt Lamb's toughness and desire, but if he is hampered at all I would rather he sit and rest for the main tournament. I love the swagger and confidence that Lamb oozes. He and Liggins have that toughness and attitude that was so ample on last year's team. It hurts to have those guys possibly limited.
With all of that, I think the Cats give Florida a game in this rubber match regardless of who plays and who doesn't. Both of these teams split the season by winning their home games, Florida by 1 and Kentucky by 8. I'll take another opportunity against the SEC coach of the year (really?) and player of the year (SERIOUSLY??? CHANDLER FREAKING PARSONS????) anytime and there is no better venue than Atlanta for the championship.
Florida is a one and a half point favorite in this game. The Cats are now 5-1 on a neutral floor and Florida has played very well this tournament, beating Tennessee and Vanderbilt. There is no doubt that UK had the easier draw over the Gators during this conference tournament.
It's time to see what these Cats can do with injuries and as underdogs. There is a lot stacked against them. I am happy that in John Calipari's first two seasons he has been in the SEC tournament final. I'd like to see him get two trophies in two years.
Go Cats.