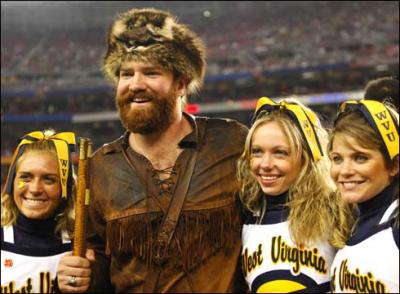 Let's get to know more about the team that broke our hearts last year:
West Virginia Mountaineers:
Location
-Morgantown, West Virginia
Enrollment
- 29,306 rednecks
Famous Alumni
-
Barney Fife
, the late Billy Mays, Jerry West, Pac-Man Jones, Kevin Pitsnoggle, and
this guy who is the current school president
.
School Motto
- "If'n she is yo first cuzin' and she's of age, she's aight to wed and lock in a cage!"
All You Need to Know about West Virginia
- You can see in this documentary trailer:
Things they Tell Recruits
-
You think you can drink? Wait until you see coach Huggy Bear shotgun some Keystone Light and then you will think twice.
Do you think your sister is hot? If you do you can marry her and nobody here will look down on you.
If pyromania is your thing then we have a program for you. Professor Cecil B. Boone teaches a course on the most effective way to burn a couch.
Have you ever seen movie "Wrong Turn"? That was nonfiction and it was filmed just 4 miles away from campus. If you want to meet the stars of the movie I can introduce you!
Most Famous Sports Moment- You Just Got Pitsnoggled:

Reasons why Kentucky will Beat Them Saturday-
The Cats shoot a helluava lot better
Bob Huggins will probably be drunk and Coach Cal will not
Brandon Knight has a higher GPA than their entire team combined
Nobody wants to see burnt coaches in Tampa
We owe them for Boogie
I know Cal is only 1-8 all time against Huggy Bear but that's about to change. The Cats had a down game and there is only one way to go from here and that is up. Time to take out some rednecks.
#revenge