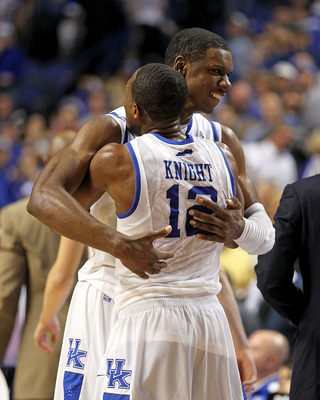 The SEC released their awards and of course the Cats received numerous nods. Here is how the Cats fared:
First Team All SEC-
Brandon Knight and Terrence Jones
SEC All Freshmen Team-
Brandon Knight, Terrence Jones and Doron Lamb
SEC All Defensive Team-
DeAndre Liggins
SEC Freshman of the Year-
Terrence Jones
As you can see the Cats gathered more acclaim for the second year in a row. I am so happy for DeAndre Liggins and I figured all three of our freshmen would receive the All Freshmen Team award and I also figured that Knight and Jones would be First Team All SEC.
The one problem I have with the list is that I think Knight should be Freshman of the year. Hell, I think that Knight should have been player of the year over Chandler
"
I look like Michael Cera
"
Parsons. I don't have much of a problem with Jones getting it but I think Knight is a better player, he means more to the team and he is the guy that needs the ball in his hands at clutch time. Calipari revealed that he voted for Knight as the SEC Player of the Year and Jones for the Freshman award. Cal only gets one vote per category.
Jones has been inconsistent all year while Knight morphed into an extraordinary player. While I still believe Jones is gone, I hold on to the hope and the view that Knight will be back next year. And then he can vie for National Player of the Year. Mark it, Dude.
And who would have ever thought that Liggins would have gotten an award at all while at UK? He is the nasty streak that this team needs and he is the emotional engine that makes them go. Scotty Hopson and Bruce Pearl are still crying over how Liggins made Hopson irrelevant in two games this season.
CBS also released their awards and, surprise surprise, Jones and Knight are on the Freshmen All American Squad. Damn we are good. Let's be good in March. Let's be perfect.