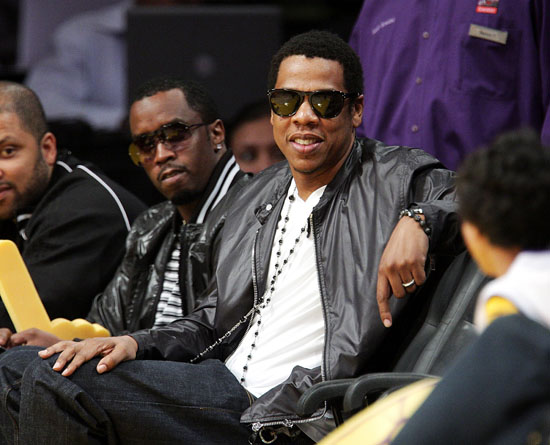 As
Boogiewoogie reported earlier this week
, hip-hop mogul and partial owner of the New Jersey Nets, Jay-Z, visited the Kentucky locker room after their 76-69 win over North Carolina Sunday (sadly without Beyonce). And SOMEONE'S getting in trouble!
Sorry haters,
the visit is not a violation of NCAA guidelines or rules but may be a violation of NBA rules
and the NBA is currently investigating according to
Ken Berger of CBS Sports
. The precedent was set in 2007 when Danny Ainge visited Kevin Durant's mom during the Big 12 tournament and the NBA fined Ainge $30,000. One would expect Jay-Z to see at least a $30k fine if not double that, as Kentucky's team currently holds two potential lottery picks.
Here's the blurb from the article:
• The NBA plans to investigate contact between Nets part-owner Jay-Z and members of the Kentucky basketball team after the Wildcats beat North Carolina Sunday to advance to the Final Four, a person with knowledge of the situation told CBSSports.com. The hip-hop mogul's visit was documented in photos and video showing him congratulating players in the Kentucky locker room, which happened to have been occupied by two potential lottery picks -- Brandon Knight and Terrance Jones. As noted here, this offense would seem to be comparable to Celtics GM Danny Ainge sitting with Kevin Durant's mother during the 2007 Big 12 tournament. Ainge was fined $30,000, a slap on the wrist in exchange for the opportunity to schmooze a top prospect's mom. But given that standard, Jay-Z should be docked $30K for each college player who was in the locker room.
As a young man looking to decide on his future and you can meet Jay-Z, Lebron, John Wall, Magic Johnson, Larry Brown... BEFORE you go to the NBA, how could you not love UK.
As one UK target recently put it in an interview with ESPN "just another reason you've gotta love Coach Cal!"