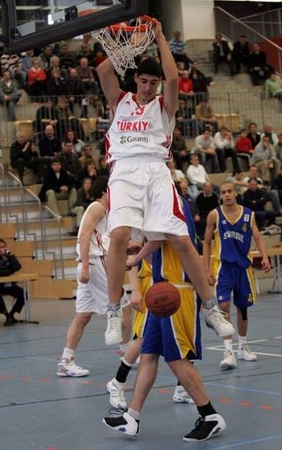 I know
Monster Mash already did a piece on Enes Kanter
but I can't get over how impressive the young
Turk
was in the
Nike Hoops Summit
game last night. I tuned in to watch
Brandon Knight
and Enes Kanter play, as these are the two biggest pieces to Calipari's recruiting puzzle, and I was encouraged by Kanter and I was left with questions concerning Knight.
Kanter was magnificent, plain and simple. He was big, strong and fast. He was able to muscle away rebounds and essentially outplay
Jared Sullinger
, the big time
Ohio State
recruit. Not that Sullinger had a bad game. He scored 22 points but fouled out of the game. Kanter looked good going head to head with the best recruits in the nation. He ended the game with
34 points
and
13 boards
. Those are
Boogie
numbers.
Terrence Jones
also looked good with
15 points
,
5 rebounds
and
3 blocks
.
Harrison Barnes
was as equally impressive as Enes Kanter.
The North Carolina
recruit finished with
27 points
on the night, 12 of those points by way of the three point line. Barnes hit open threes and drove to the lane a number of times. Look for him to make an impact right away for
Roy Williams
.
Knight's impact was not felt as much as Kanter's, Barnes', or Sullinger's. He was quiet on the offensive end as far as scoring was concerned but he did show flashes of quickness with the ball, driving and then dishing to his teammates for open shots. His presence was felt with his ball movement and his assist work.
The game belonged to Kanter. I was actually surprised by how good he was. His outside shot was on point as well as his free throw shooting. He was 7 of 8 from the line which is a welcome sight to the Kentucky faithful. I know his eligibility may be in question because he played for a Turkish professional team but he never received any money. He is a high profile player and this high profile is going to be under an intense microscope. I haven't heard any flaps about any of the other foreign players on the world team and their eligibility, as they have played for other professional European leagues. But this is
Kentucky
and Calipari we are talking about here. There will be scrutiny no matter what.
My guess is that Kanter will maybe have to sit out a few games but nothing substantial. He will be on the team and he will be playing the bulk of, if not all of the games this season. I can't wait to see this kid in the blue and white of Kentucky.
This is a huge week for recruiting. Brandon Knight, the
Gatorade Player of the Year
, is set to announce his intentions on
Wednesday
. Other players committing this week include
CJ Leslie
,
Doron Lamb
and
Josh Selby
, all of these players will commit on April 17.
Terrence Jones
will announce his intentions on April 29 or 30. If Knight or Leslie do not commit then it will be a shock. I think the Cats have a strong shot at Lamb but I think Selby is
KU
bound. I also like our chances of landing Jones.
Some other big news is
Patrick Patterson's
indecisiveness. The longer he waits the more excruciating it is for fans but the better chance that he stays. Take as long as you want Pat. Your locker and the number
54 jersey
is still there for you.
Go Cats
.