These UK supestars are putting up great individual numbers but all they want is for their teams to win. BBN misses them. Sniff, sniff.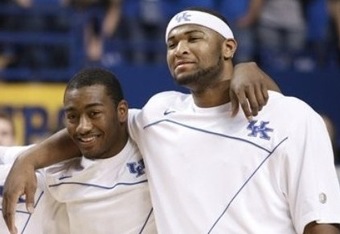 Out of the four major categories (scoring, rebounds, assists and minutes) John Wall and Demarcus Cousins are in the top 10 of every single one of them. Wall leads all rookies in scoring with 21 points per game; Boogie comes in at #2 with 13.3 ppg. Boogie is #3 in rebounding with 7.3 rpg; Wall is #9 with 3 rpg (and he is a point guard). Wall is #1 is assists per game with 9; Boogie is #3 with 2.3 apg (and he is a center); Eric Bledsoe comes in at #10 with 1 apg. Wall is again leading all rookies with 38.8 minutes per game; Cousins is at #5 with 25.2 minutes per game.
Blake Griffin missed all of his actual rookie year last season and is still considered a rookie. He will be the #1 competition for Wall and Cousins in the ROY race this season. Out of the three of them Wall is on the worst team therefore he will have little help and every accomplishment he maes will show how dominant he really is. The guy has zero help. Evan Turner will be looked upon as a bust by season's end.
Samardo Samules, the lone UofL player in the NBA from last year's team, is performing admirably for the Cavaliers and is #9 in scoring with 7 points a game.