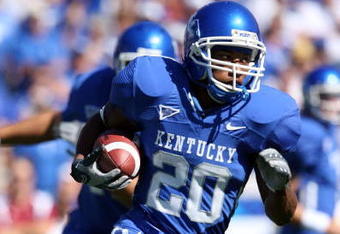 The long wait is over for former Cats Derrick Locke, Ricky Lumpkin and Chris Matthews. All three have signed with NFL teams.
Derrick Locke is running to catch up to Adrian Peterson with the Vikings, Chris Matthews is looking to catch some passes from Colt McCoy with the Browns and Ricky Lumpkin will be joining Darnell Dockett on the Cardinals D-Line.
Congrats to all of them and here is to hoping some more good NFL players from UK. I am especially excited to see Matthews in Cleveland, for I am a Browns fan. Don't judge me, jerks.