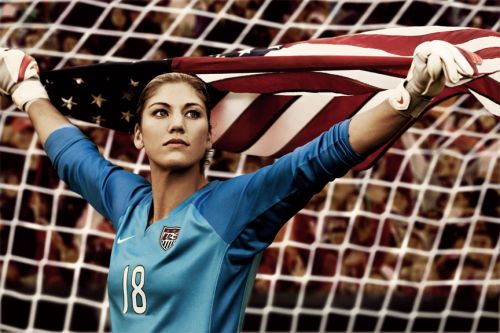 I'm not a soccer fan in the least bit. I don't even follow it causally. I couldn't name all the teams in MLS, I don't even think I can name 5 of them. And I for sure don't follow the leagues over in Europe that soccer fans claim are better than the NFL, the NBA, MLB, college football, and college basketball all rolled into one.
But I do follow the USA when the World Cup comes around and yesterday was one of the most amazing thins that I have ever witnessed in sports. The U.S. was down one player due to a red card ejection against Brazil and beat the Brazilians in penalty kicks, 5-3. The Americans being down a player was not even the most dramatic part of the whole story. They were down 2-1 in overtime when a goal was scored in almost the last second of the match, forcing the dramatic sudden death kicks.
The big star to emerge from the Women's American team seems to be Hope Solo. She had big save after big save yesterday, and embodied the intensity and will to win the US seemed to have adopted when they were backed up against the wall. And it doesn't hurt that Hope isn't too bad on the eyes.
Onto the News:



College basketball coaches have turned their attentions to recruiting as the July summer camps are in full effect. John Calipari has shifted his focus onto two major players, the #1 high school player Shabazz Muhammad and Perry Ellis. Cal watched Ellis play a total of 6 times. So far, these seem to be the jewels of Cal's 2012 class. Cal usually gets what Cal wants. Calipari has been travelling from Indianapolis, to Chicago, to Lexington and wherever else the talent is. He decided to make a game out of it by letting fans guess his next destination on his Twitter account.




Rick Pitino has also hit the recruiting trail but not as hard as Cal or the other premier basketball coaches. According to Jody Demling's Twitter, Pitino decided to take the day off Saturday and not recruit. Saturday was one of the bigger days of the camps and Ricky 3 Stacks felt it necessary to not participate. "Louisville First, Talent Second".




Pacman Jones decided to go all Pacman Jones in a bar this weekend by getting busted by the 5-0 in Cincinatti for disorderly conduct and resisting arrest. Some guys need professional help. And then there are guys like Pacman Jones that need to be banished to Siberia. Just a thought.




Derek Jeeter had his 3,000th hit this weekend and the 23 year old fan that caught the 3,000th hit, which was a home run, gave it back to Jeeter for...season tickets for the rest of this season and this season only. To me this is beyond stupid. A). Catching that ball was like winning the lottery. He was one guy out of 50,000 other people that was lucky enough to come up with the historic ball. B). It's not like Jeeter or the Yankees don't have the money to pay this guy. C). Fans catching home runs is part of the game. A ball goes out, a fan gets catches the ball, the ball now belongs to that fan. The idea that Jeeter holds any claim to that ball is absurd. Finders Keepers.
And fianlly, the other big talk this weekend was of the first ever NASCAR Sprint Cup Race at Kentucky Speedway. I hate NASCAR and I watch it less than I watch soccer, so I had no interest in going and I could have cared less who won. What I do care about is the total screw up that the traffic turned out to be.
I had a personal friend of mine leave his home in Henryville, Indiana at 3 p.m. and he didn't make it to the track until 9 p.m. That's not the worst part. He was turned away and told to go home at the gate because they ran out of parking. A lot of fans got screwed out of their money and their sporting experience due to the greed and ineptitude of the people at the Kentucky Speedway.