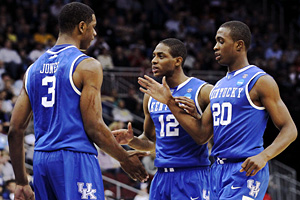 This is a good news/I have no freakin' clue scenario.
First up, let's talk about what we know for sure. Doron Lamb has officially announced through the University of Kentucky that he is bringing his 12 points per game and his swagger back for another run to the Final Four.
To dispel the myth that John Calipari wants to shuttle all of these freshmen off to the NBA, here i what he had to say: "Not only does he (Lamb) gain another year of maturity and school work, but he now has the chance to put in the extra work to elevate his game. I'm excited to have him back." Me too. I have my Three Goggles waiting for next season.
And now on to what we don't know. Kind of. There is one thing that we do know for sure and that is that Brandon Knight has made a decision. His mother was interviewed and she refused to give up the goods, stating "It's not for me to announce". Oh Boy.
Whatever his decision is it seems that it is going to be definite. I think he will either say he is coming back to school or he is entering the NBA draft and hiring an agent. With top 10 draft picks deciding to stay in school, Knight has rocketed up to the #5 projected player in the draft. It will be tough for him to go that high next year.
Whatever his decision he will be supported by the fans. An announcement will probably be made tomorrow or Thursday.
And Terrence Jones still has not indicated what he is doing at all.
Update: No, not the kind of update where I tell you Brandon Knight and Terrence Jones are coming back. Here is what Doron said about returning to UK:
"With the guys we have coming in next year, I know we have the talent to make another run at a national title. I want to help bring a National Champinoshipt back to Big Blue Nation because I know they have been waiting too long. I've enjoyed my time at Kentucky, playing for coach Cal and his staff and I'm not ready for it to end."
This kid gets it.