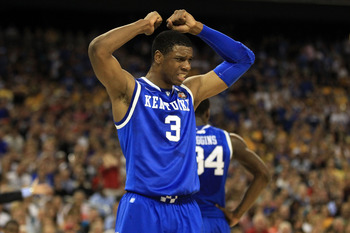 Maybe Terrence Jones has something against horses. Whatever it is this is the second year in a row that he is causing waves during the weekend of Kentucky's biggest international event.

Last year I distinctly remember sitting on a friends porch during the Kentucky Oaks constantly refreshing KSR and the Courier-Journal online to find out if Jones was going to be a Wildcat or a Huskie. He broke the heart of Big Blue Nation by picking up a Washington hat only to later mend the broken pieces by coming to UK and becoming one of the best freshman in the country on the way to a Final Four.

This year Jones is going to announce via Twitter whether or not he will go pro or stay at Kentucky and become a sophomore with his teammate Doron Lamb.

I haven't blogged in a while and I deactivated my Twitter account. I am once again blogging and I reactivated my Twitter for this sole purpose: to see what Jones will do and spread the news anyway I can.

Maybe I am sick in the head. One thing is for sure, I love Kentucky basketball almost more than anything else.

If there are any indications from Jones they have been veiled. He has been sending out pictures of himself as well as his UK teammates having a good time tagging them with words like "family" and "brothers". His Twitter profile pic is of him sitting solemnly in the locker room after the heart breaking loss to UConn.

Coach Calipari Tweeted that Jones is ready to announce. No press conferences. Just a Tweet. I am thinking, and hoping, that Jones is ready to blow the doors off of Rupp Arena with a simple "I'm coming back."

Press conferences are usually heartfelt goodbyes to the fans. Just look at Brandon Knight, John Wall, Randall Cobb and Patrick Patterson. It is a dignified way to say thanks for the love and memories. Announcing a goodbye via Twitter would be a bad move for Jones and his relationship with fans. This is the main reason I am thinking that the announcement will be of his return.

Another telling sign is the involvement of John Calipari. He has been talking about this Tweet since yesterday afternoon. He is pumping BBN up for something big and I doubt it is for a let down. Noway is Call hyping this to only disappoint a most loyal fan base.

Whatever happens it will make it a very interesting Derby Day. Jones is once again taking precedence over the biggest party day in the Commonwealth. The only thing that could trump it is a basketball national championship. The return of a player like Jones makes that a distinct possibility.